Nanit can be configured to send you alerts anytime it detects a specific level of motion and sound in your baby's nursery, when your crib is not properly positioned, or when a member of your parenting team comments on one of your baby's moments.
Notifications show up as a popup on your linked phone or tablet and can be adjusted independently for each member of the parenting team. If you have more than one Nanit camera, you'll need to adjust your notifications settings for each camera separately.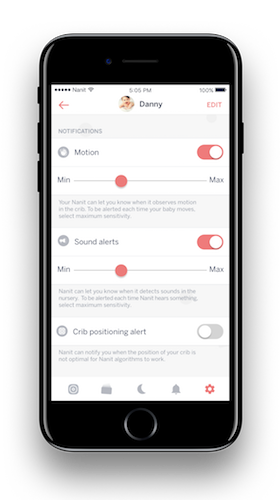 Note: Your baby's sleeping habits will change over time, so we suggest adjusting your notification settings as your baby gets older.
By default, all notification settings are enabled. However, you can adjust them by following the steps below:
Open the Nanit app.
Tap the Settings tab.
Tap the camera you'd like to adjust.
Tap 'Notifications'.
---
Motion
Nanit can let you know when it observes motion in the crib.
To be alerted each time your baby stirs, turn on motion notifications and select maximum sensitivity.
If you'd like to receive fewer notifications, select minimum or disable the motion toggle.
---
Sound alerts
Your Nanit can let you know when it detects sounds in the nursery.
To be alerted each time your baby coos, turn on sound alert notifications and select maximum sensitivity.
Note: In order to receive sound alerts, audio must be enabled on Nanit.
---
Crib positioning alert
Nanit can notify you when the position of your crib is not optimal for Nanit algorithms to work.
Some common reasons for crib alerts include:
The crib or camera has been moved.
There is an object obstructing Nanit's view.
There is an object hanging on the edge of the crib.
To learn more about how to properly position your crib and camera, click here.
Correctly positioning your crib
In order for Nanit to know when you're visiting or taking your baby out of the crib, you must leave about 10 to 12 inches of space alongside the crib. Additionally, Nanit requires a full view of the crib area to properly monitor your baby. The image below shows a properly positioned crib.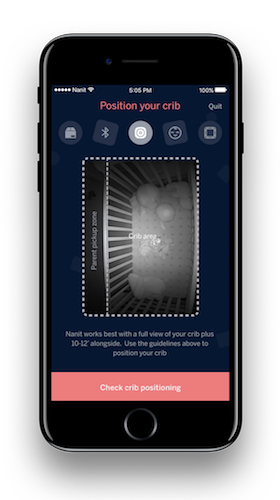 If you're having trouble positioning the crib, try adjusting the angle of the Nanit camera by loosening the knob near the top of the stand and positioning the camera. Once you've properly adjusted the angle, be sure to tighten the knob.
After completing the set up for Nanit, if you ever move your crib and need to reposition the parent pickup zone/crib area you can adjust this setting in your Nanit App.
Open your Nanit App

Select your Settings icon

Select the Nanit camera you wish to reposition

Select Position Crib
---
Comments
Anytime a member of the parenting team comments on a moment, you'll receive a comment notification. When you tap on the notification, you'll be directed to the moment the new comment was posted on, so you can reply to it.
---