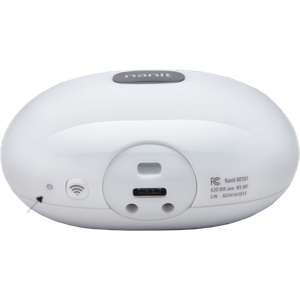 Whenever you pair your Nanit to a Wi-Fi network, Nanit saves the credentials for each Wi-Fi network for easy connection in the future. Sometimes, this needs to be forgotten or reset to prevent unwanted connections. To effectively reset your saved Wi-Fi pairings on your Nanit, you can follow the steps below:
Confirm your Nanit is receiving power. The camera must be powered on and working.

Locate the recessed master reset button on the back of your Nanit camera. The pinhole is located to the left of the connect button on the back of the camera.

Prepare a paper clip or an appropriate tool that'll fit all the way into the pinhole.

Press the connect button. This will help determine if the master reset is successful. The light on the top of the camera should start to blink.

Insert your tool all the way into the pinhole until you feel resistance. NOTE: You only need to press/hold the button within the pinhole for 1 second.

If successful, the light on top of the camera will stop blinking.
Keep in mind it can take up to a minute for your camera to finish resetting itself
Once the light begins blinking again, you can begin the pairing process.