What does the green animation mean?
While monitoring your baby's Breathing Motion with Nanit, you'll see a pulsing green animation in your live tab. This indicates that monitoring is in session and that we are getting good readings about your baby's Breathing Motion.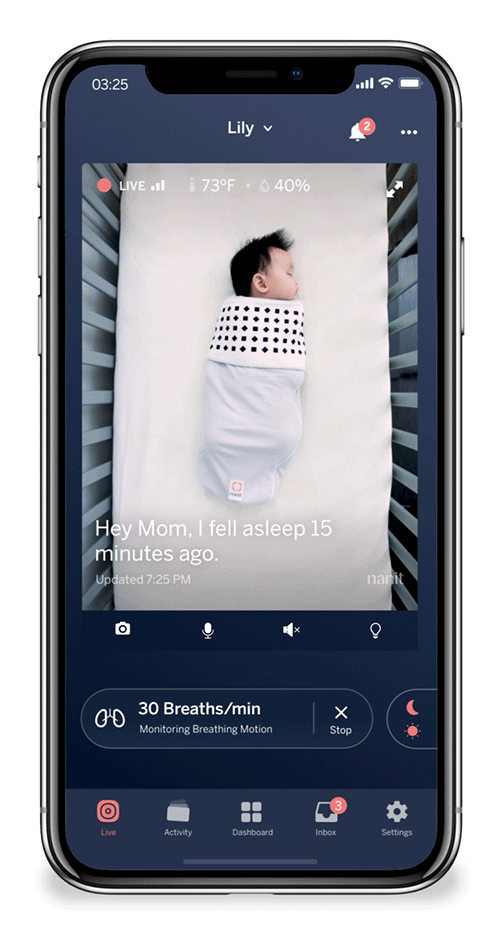 What is Breaths/Min?
Breaths/Min is short for "Breaths Per Minute." Nanit detects your baby's breathing motion using smart algorithms that track the pattern on Nanit Breathing Wear, and analyze your baby's chest and abdominal movement as they breathe. During active Breathing Motion Monitoring sessions, this information is reported to parents at the bottom of their screen as "Breaths/Min."
What is considered a normal reading for Breaths/Min?
The normal range for Breaths/Min changes over time as children grow.

| | | |
| --- | --- | --- |
| Age  | Normal Breaths/Min Range | Median Breaths/Min |
| 0-3 months | 25-66 | 43 |
| 3-6 months | 24-64 | 41 |
| 6-9 months | 23-62 | 39 |
| 9-12 months | 22-58 | 37 |
| 12-18 months | 21-53 | 35 |
| 18-24 months | 19-46 | 31 |

Source: Fleming et al Lancet. 2011 March 19; 377(9770): 1011–1018 
As shown in the table above, newborn babies breathe very quickly and can also have very shallow breaths. They may also stop breathing for short bursts of 5-10 seconds many times per hour which is completely normal. These bursts are called 'apneas' and are usually no cause for concern in young babies. The Nanit Plus camera will alert you if it detects no movement in your baby's chest and abdomen for more than 20 seconds. 
Please note that Nanit is not a medical device. Nanit is a connected product designed and intended to continuously learn from the data it collects to help you understand your baby's sleep patterns. It is not intended to diagnose, treat or cure any disease or other condition, including but not limited to, Sudden Infant Death Syndrome (SIDS). False positive or false negative readings about your baby's breathing patterns are a potential risk of Nanit. Nanit should not substitute for the care and oversight of an adult or consultation with medical professionals.