Memories is a feature in the Nanit app where you can celebrate and save your baby's milestones and favorite moments. To access Memories, you'll need an active Nanit Insights subscription, and you'll see a tab in your app, called "Memories". Nanit will automatically detect sleep achievements and special moments and will generate a clip for you to celebrate with your entire family.
But the Memories feature isn't just about what your Nanit camera identifies and stores - you can actively save your favorite memories that your Nanit caught to be cherished and kept there. It's a digital baby book with pictures and videos you may never have been able to save without Nanit!
In your Activity feed, you can save Sound, Motion and Insights events to your Memories feed. Videos saved to the Memories feed will be saved as long as you have an active Insights subscription, so any clips saved to your Memories will be accessible as long as you maintain your subscription.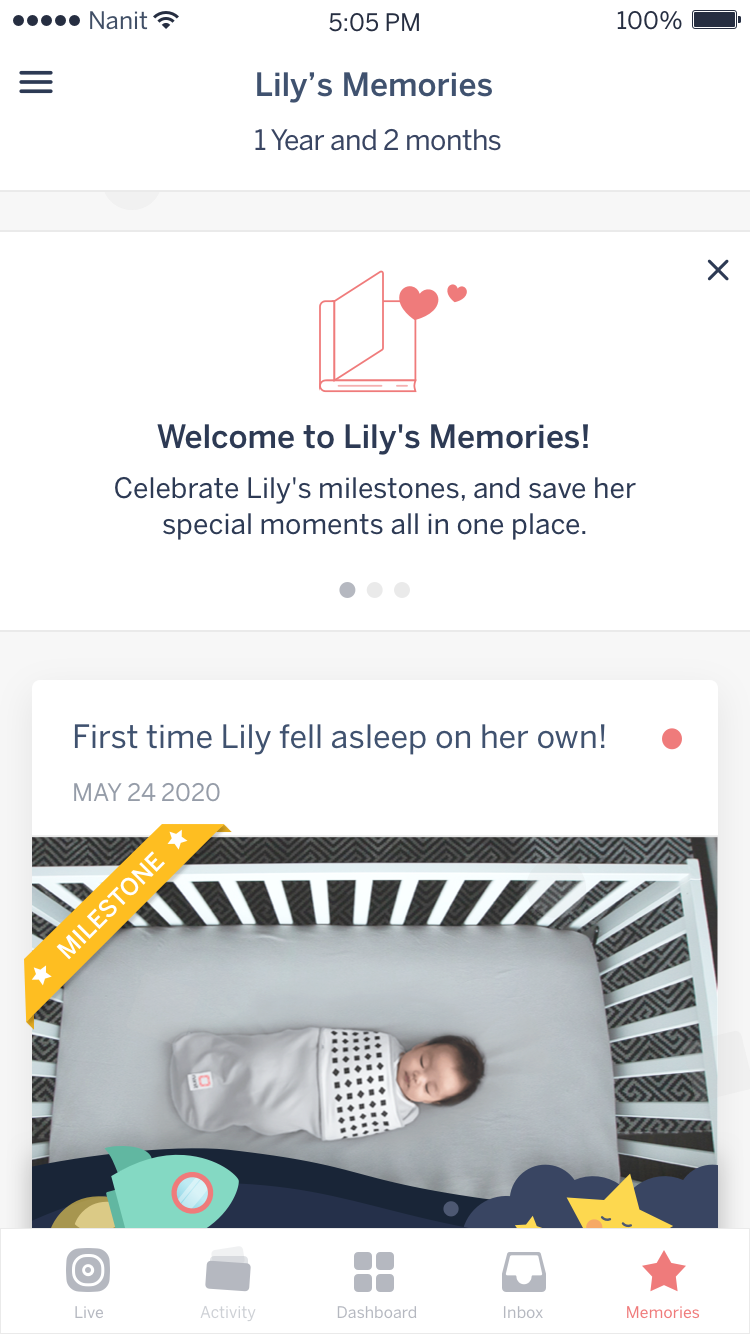 1. What types of Memories can I get?
Currently, these are the sleep milestones and achievements you can get from Nanit:
Baby fell asleep on his/her own - Your baby was put to bed awake and fell asleep on their own

Baby soothed themselves to sleep - Your baby woke up in the middle of the night, but was able to fall asleep on their own

Baby slept through the night - Your baby slept the entire night without being picked up from bed

Longest total night time sleep - Your baby broke their own record of sleep to date

Rise and shine, morning pick ups - a compilation of you picking up your baby up in the morning

Anniversaries - we will celebrate with you every month when it's your baby's anniversary.
We are working on automatically detecting more memories so stay tuned for new surprises :)
2. User permissions
The Memories feed is available to all Owners and admins in your parenting team. Owners and admins can decide which Viewers in the parenting team will have access to Memories, click here to see how.
Viewers who have access to Memories can watch all the videos and anniversaries, but they can not share, delete or report anything.
3. How many items can I save to Memories?
The number of Memories you can save depends on which Insights subscription you have*:
Insights subscription - Save up to 12 items.

Insights Premium subscription - Save up to 200 items.

Insights Ultimate subscription - Save unlimited items to Memories.
To learn more about the different Nanit Insights plans click here.
*This limit only applies to the memories that are saved by you, and not to the automatically generated memories Nanit will send.
4. How do I clear up space in my Memories feed?
If you reached your limit or if you just want to remove a saved memory, you can tap on the three dot menu in the 'View memory' screen and choose "Delete". The video will be permanently removed and allow more space for new memories. Please note that all parenting team members will lose access to the video once it has been deleted.
If you don't want to delete any items, you can upgrade your Nanit Insights subscription to get more space.
5. What to do if a Memory I got from Nanit is incorrect?
If the automatically generated memory you got from Nanit is incorrect, please submit the feedback in the app to let us know that it was not accurate. The video will be reviewed and our team we will use the feedback to improve our algorithms moving forward. All input will be read and processed, however not all feedback will result in a personal reply from the Nanit team.
To submit feedback:
Open the Memory you want to give feedback about

Tap the three dot menu in the top right corner

Tap on 'Give feedback'

Based on the specific issue your memory had, choose either 'Some part of the Memory was wrong' or 'The entire Memory doesn't match the title'

Press 'Send'