As your child grows, we want Nanit to grow with them. Our Alert Zone app feature is one of the many ways Nanit can meet your family's changing needs.


How do I start using Alert Zone?
What is Nanit Alert Zone?
The Alert Zone feature sends you a notification if motion occurs within a specific area, as detected by the Nanit camera when it's used in conjunction with the Flex Stand.
If you've heard of geofencing before, it's essentially the same thing—you set a virtual predefined space and whenever a motion is detected in this off-limits area, you'll be alerted on your Nanit app.
An Alert Zone works by keeping watch of the area you've set. It only takes a few taps to set up an Alert Zone!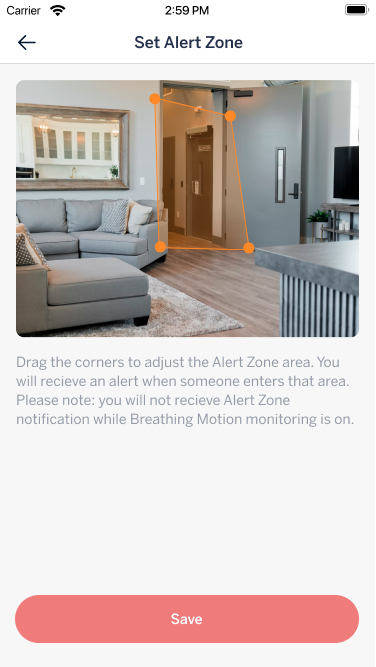 Who can set up Alert Zone?
An Alert Zone can be configured when all of the following requirements are met:
Nanit Pro camera

Pro Camera attached to a Flex Stand

Pro Camera firmware version 6.11 or higher

Active Insights paid subscription (Basic, Premium, or Ultimate)

How do I start using Alert Zone?
Nanit can be configured to send you alerts anytime a specific level of motion is detected in a predefined area of choice.
Make sure your camera is connected properly to the Flex Stand; placing the stand on an elevated surface is best, as this allows for the widest view.

Open your Nanit App.

Tap the side menu.

If you have more than one Nanit Pro camera, select the Pro camera you wish to set up.

Choose your baby's settings.

Select 'Alert Zone setup'.

Mark the desired area by dragging the corners to create a border around the zone.

Save.
Notifications appear as a popup on your phone or tablet. If you have more than one Pro camera, you'll need to adjust your notification settings for each camera separately.

Learn more about Nanit app notifications here.


Troubleshooting Alert Zone Notifications
If you are having trouble with Alert Zone notifications, try the following steps:
Perform a basic power cycle of your Nanit camera - remove the camera from the stand and unplug it from the wall for about five minutes, and then re-attach the camera back on the stand and let it boot back up

While it is power cycling, please also uninstall/reinstall the app on your phone

Perform a hard reset of your Nanit camera
Ideas for Using Alert Zone
Here are some ways Nanit families can use the Alert Zone feature:
To send a notification when your child climbs out of their crib or bed

To make certain areas of the home off-limits when gates are not an option

To notify you when their child leaves a room or enters an alert zone

To monitor bathroom usage during potty training

To keep their children out of your home office

And more…
Common sense disclaimer: This feature is intended to assist and alert parents of movement in the selected zone and does not replace adult supervision. It does not detect dangerous or hazardous materials, openings, temperatures or other conditions that might be present in the zone and is not intended to detect danger in general.